Geagea: Clashes are part of campaign to weaken Lebanon PM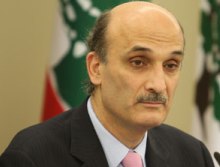 Lebanese Forces leader Samir Geagea told al-Liwaa daily in remarks published Friday that the latest clashes between Hezbollah and Al-Ahbash gunmen in Borj Abi Haidar were part of the organized campaign to weaken Prime Minister Saad Hariri.
The clashes were also aimed at targeting the Special Tribunal for Lebanon and the logic of justice, Geagea added
Geagea vowed, however, to remain committed to justice.
He also urged Hariri and President Michel Suleiman to deal firmly with the gunmen involved in Tuesday's street battles.
Geagea defended the army against critics, saying "it is insulting to tell it that it is incapable of confronting some armed youth and rioters after it confronted Israel in Adeisseh."
Arms free capital
In a related development Lebanon March 14 MP Jamal al-Jarrah told the Voice of Lebanon (VOL) on Friday that all armed parties must voluntarily hand over their weapons to the Lebanese Armed Forces (LAF).
"The arms should target the Israeli enemy and not the Lebanese people," Jarrah said, calling to make Beirut an arms and militia free city.
Clashes broke out in the Beirut neighborhood of Borj Abi Haidar Tuesday night between supporters of the pro-Syrian Association of Islamic Charitable Projects—also known as Al-Ahbash—and the Iranian backed Hezbollah militants , leading to the death of three people, including Hezbollah official Mohammad Fawwaz.
The clashes were the worst since May 2008, when Hezbollah gunmen swept through Sunni neighborhoods of Beirut after a government crack down on the group's telecommunications network.