Hariri urges calm, reason, logic in resolving problems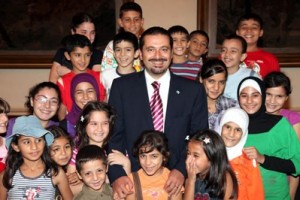 During an Iftar in Qoreitem in honor of families and figures from northern Bekaa, Lebanese Prime Minister Saad Hariri called for calm, reason, logic in resolving problems and maintaining stability.
He also called for equipping the Lebanese army and security forces with proper weapons and armor .
"We are on the verge of several regional developments, and wisdom requires the use of calm, reason and logic," Hariri told
"Last month, important guests visited Lebanon," Hariri said in reference to Saudi King Abdullah and Syrian President Bashar Assad.
"The focus was on the Arab framework for stability in Lebanon. Stability in the country is essential and it generates prosperity and creates job opportunities," Hariri stressed.
"And in order to preserve this, we must work to maintain this stability. Thus, I call for strengthening and equipping all military and security forces," Hariri urged.
He said the security forces include the Lebanese army, Internal Security Forces, General Security and State Security.
On the Special Tribunal for Lebanon, Hariri reiterated his commitment to the "cause of justice."
"Truth is a national responsibility that should not be abandoned or waived whatever the reasons are.
"The path of justice will not be disrupted," he vowed.
He said that despite his calls to maintain a calm atmosphere, some insist on destroying attempts to resolve issues through calm dialogue
"Some people want the issue of the Special Tribunal for Lebanon to remain an issue of argument. And we see that talking too much about this issue will not change anything.
March 8 coalition figures in the past month have called the STL an Israeli project aiming to incite sectarian strife in Lebanon.
Justice will be achieved despite the threats, Hariri added.
His comment comes as a possible reference to Wiam Wahhab's statement on August 15 " people supporting sedition in Lebanon will be later found inside car trunks."
The PM said that some politicians should reconsider their policies, adding that threats lead to nowhere.
Turning to the electricity crisis that has sparked street protests, Hariri said blocking roads with burning tires "does not solve the problem."
"The solution would be by approving the budget in Parliament and starting to work, while taking into consideration the priorities of the people, which are also the priorities of the government."
"The problem has been there for years and it is mainly due to the lack of investments in the electricity sector since the year 1997," he acknowledged.
"Today, we have a plan that was approved by Cabinet and we have to execute it," Hariri noted.