Iran inaugurates nation's first unmanned bomber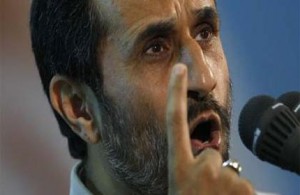 Iranian President Mahmoud Ahmadinejad has inaugurated the country's first domestically-built long-range unmanned bomber.
The 4-meter long unmanned plane, dubbed as Karrar or striker, was inaugurated by Ahmadinejad on Sunday, the national day for the country's defense industry.
The ceremony was aired live on state TV.
Iran has been producing its own light, unmanned surveillance aircraft since the late 1980s.
Since 1992, Iran has also produced its own tanks, armored personnel carriers, missiles, torpedoes and a fighter plane.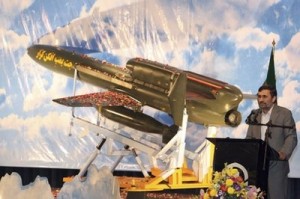 Iran launched an arms development program during its 1980-88 war with Iraq to compensate for a U.S. weapons embargo.
Man into space by 2025
Ahmadinejad said the country would send man into space by 2025.
Speaking to a group of university professors Saturday evening, concerning the global Arrogance's enmity with Iran, Ahmadinejad said, "I believe they fear that Iran make headway, if Iran makes progress, there will be no place for them."
Ahmadinejad added , "we are going to put a larger satellite into space that can operate for one year and send data."
"Iran plans to shoot satellites to altitudes of 700 km, then 1,000 km."
"Once this target is realized, placing a satellite at a geosynchronous orbit of 35,000 km will be easy, " he said
Anti-missile system
According to Lebanese media reports , Iran is expected to make an offer to supply Lebanon with a missile defense system, during Iranian President's upcoming visit to Beirut shortly after the holy month of Ramadan. Iran would also offer to supply some other weapons during his visit, according to local reports .
This comes after some U.S. congressmen placed a hold on American military aid to Lebanon due to concerns over Hezbollah's influence on the army.
AP/ Agencies