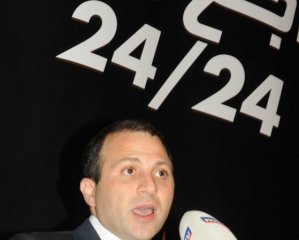 Protests against the power blackouts continued over the weekend … Yesterday Hezbollah and Amal closed the Airport road with burning tires and today they blocked the road that links al-Nabatieh al-Fawqa with the city of Nabatieh with burning tires.
The Beqaa region also witnessed protests at the Masnaa road but security forces soon intervened and reopened all the roads.
Energy Minister Gebran Bassil told the daily An Nahar Sunday: "We received the people's message a long time ago and we are working tirelessly at the ministry to resolve the crisis."
"We also received some politicians' messages and we will work against them," he added.
Bassil was quoted as saying " those that are not paying for electricity are the ones who are protesting the most." This was understood to read Hezbollah and Amal .
Bassil is the son-in-law of FPM leader Michel Aoun who is closely associated with Hezbollah.
Water problem is greater
Bassil is expected to inspect the Shabrouh dam in Kesrouan district where he is scheduled to discuss water issues in Lebanon "because the water problem is much greater than the electricity one," he said.
According to Al-Hayat report that was published on Sunday, many officials believe that the energy crisis is expected to continue until the ministry begins implementing the maintenance plan in the electricity sector.
The plan was approved by Cabinet in June, but it can only be implemented once the state budget is approved in parliament.
A billion dollars have been allocated to the electricity issue in the budget.
Prime Minister Saad Hariri stated at an iftar Friday: "Some individuals have spoken of constructing gas power plants in the North and South. Former Prime Minster Rafik Hariri had proposed such a plan before Cabinet in 1996 and had it been implemented back then we would have avoided the problem we are suffering from today."
This error message is only visible to WordPress admins
Error: No connected account.
Please go to the Instagram Feed settings page to connect an account.