Aridi calls protests over power cuts 'uncivilized'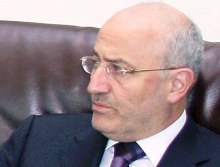 Transport Minister Ghazi Aridi said in Bint Jbeil that civilized public expression is good, but "we all lose" when people block roads and attack public utilities to protest power cuts, the National News Agency (NNA) reported.
Aridi acknowledged the "old deprivation in historically oppressed regions," but said that the government has produced a plan to solve Lebanon's electricity woes.
The plan will take some time to implement, he added.
The plan was approved by Cabinet in June, but it can only be implemented once the state budget is approved in parliament.
A billion dollars have been allocated to the electricity issue in the budget.
"It is known that some people are stealing electricity and they should be held accountable" Aridi said.
Energy Minister Gebran Bassil was quoted as saying " those that are not paying for electricity are the ones who are protesting the most." This was understood to read Hezbollah and Amal.
Protests against the power blackouts continued over the weekend … Yesterday Hezbollah and Amal supporters closed the Airport road with burning tires and today they blocked the road that links al-Nabatieh al-Fawqa with the city of Nabatieh with burning tires. The Beqaa region also witnessed protests at the Masnaa road but security forces soon intervened and reopened all the roads.
Shiite cleric Ali Fadlallah said on Saturday during protests in Bint Jbeil and Ainata against power and water cuts "the people are suffering due to government neglect and corruption according to National News Agency (NNA)
"Suffering has no religious or sectarian identity," he added, calling on the government to produce more than political talk.
According to observers Hezbollah is crying wolf and shifting the blame over the power cuts to the government, exactly the same way it shifted the blame in 2006 following its war with Israel, when the Lebanese infrastructure was leveled by Israel, following the kidnapping of 2 Israeli soldiers.
MP Ammar Houri told New TV on Sunday : "Collecting electric bills should take place in an organized manner." It is not clear what he meant because according to observers , in Mount Lebanon for instance all residents pay their electric bills in organized manner either directly to collectors or through the approved banks and yet no protests over power cuts were ever reported despite the fact that power cuts in Mt Lebanon are a way of life.
According to observers bill collectors in Hezbollah and Amal strongholds have been subjected to attacks and many were killed or wounded.