UN expected to extend UNIFIL term for another year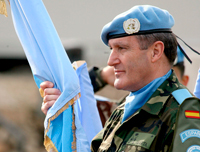 The Security Council is expected to address this issue of extending the mandate of the United Nations Interim Force in Lebanon ( UNIFIL) at the end of the month.
UNIFIL commander General Alberto Asarta expected the U.N. Security Council to extend UNIFIL term for another year.
During an interview with al Mustaqbal newspaper Asarta stressed : "There are no obstacles preventing it from renewing UNIFIL's term."
He said : "The renewal will respect U.N. resolution 1701 and there are no plans to change the troops' rules of engagement.
1701 is a UN Security Council resolution that was intended to end the 2006 Israel-Lebanon conflict.
It was unanimously approved by the United Nations Security Council on 11 August 2006. The Lebanese cabinet, which included members of Hezbollah, unanimously approved the resolution on 12 August 2006. On 13 August the Israeli Cabinet voted in favor of the resolution. The ceasefire began on Monday, 14 August 2006.
The Resolution demanded
– Full cessation of hostilities
– Israel to withdraw all of its forces from Lebanon in parallel with Lebanese and UNIFIL soldiers deploying throughout the South
– Hezbollah to be disarmed
– Full control of Lebanon by the government of Lebanon
– No paramilitary forces, including (and implying) Hezbollah, will be south of the Litani River