Lebanon refuses to bow to Israel's warning over Gaza bound aid ship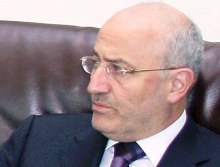 Lebanese Transportation and Public Works Minister Ghazi Aridi said Friday that Lebanon refuses to bow to Israel's warning against granting clearance to an all-women aid boat which plans to sail to blockaded Gaza this weekend.
"We will not respond to the wishes or requests of (Israeli Defense Minister Ehud) Barak, and what he says is of little relevance to us," Aridi told AFP in a phone interview.
"We will continue to exercise our sovereignty and make the decisions we find appropriate."
Barak warned last month Israel would intercept any ship nearing Gaza and said the Lebanese government would be held responsible for allowing flotillas to depart from its shores for Gaza, which is run by the Islamist movement Hamas.
Yesterday , Israel informed the United Nations that it reserves the right to use force to stop the aid ship from reaching Gaza.
In a letter sent to U.N. chief Ban Ki-moon, Israel's U.N. Ambassador Gabriela Shalev said the stated intention of the all-women ship "is to violate the existing naval blockade of Gaza."
She added that Israel also had information that another vessel, the Naji al-Ali, plans to leave from a Lebanese port with the aim of "violating the blockade."
"Israel reserves its right under international law to use all necessary means to prevent these ships from violating the aforementioned naval blockade," Shalev warned.
She said such "confrontational actions by the organizers as well as those that offer their consent, is deeply troubling and requires the attention of the international community."
Israel came under international censure over its May 31 seizure of a six-ship aid fleet bound for the Palestinian territory when Israeli commandos shot dead nine Turkish activists on the lead boat.
The Mariam, a Bolivian-flagged cargo ship originally named Julia Star, plans to leave from northern Lebanon port of Tripoli for Cyprus on Sunday at 10:00 pm (1900 GMT) on the first leg of a planned voyage to Gaza, organizer Samar al-Hajj said Thursday.
The vessel, renamed in honor of the Virgin Mary, plans to carry aid to Gaza in a bid to break the four-year siege of the Strip with more than 50 Lebanese and foreign women activists on board, including local pop star May Hariri.
But Aridi told AFP that there was no guarantee the ship would set off on Sunday night as Cyprus had not yet granted the Mariam authorization to dock or to depart for Gaza.
The Cypriot government has said the island was keeping in place a ban on the sailing of ships from Cyprus to Gaza.
The Naji al-Ali, another Lebanese boat organized by journalists, has also announced it would sail to Gaza via Cyprus but has not yet received clearance from Lebanese authorities. Naharnet