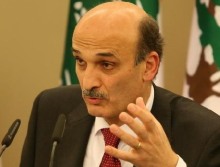 Lebanese Forces leader Samir Geagea defended on Friday the proposal he presented during the national dialogue session on a defense strategy for Lebanon that calls for having the Resistance at the army's command.
Geagea described his proposal as a "practical, temporary, and positive" plan that can be applied "as long as Hezbollah exits in the way it does."
"We know that Hezbollah is wary of revealing its true capabilities, and so placing them at the army's disposal is the best solution for the current situation," he continued.
"They say that the Resistance is a powerful asset to Lebanon, so why don't they use it? We are not saying that Hezbollah should lay down its weapons or disband itself … but the proposal called for maintaining it, but under the army's control because it is the ideal way to function," he stressed.
Geagea added that his proposal is the best plan to implement the equation of the people, army, and Resistance, pointing out however that he rejects this equation "because a normal state is comprised of the people and all state institutions."
He rejected House Speaker Nabih Berri's suggestion that units comprised of Hezbollah and army officers be formed, saying that this would lead to the creation of two armies in Lebanon, each following a different authority.
Furthermore, Geagea criticized statements that his proposal is a trap for the Resistance, asking: "Where is the trap? The plan calls for cooperation between Hezbollah and the army without the party revealing its capabilities or the location of its weapons." Naharnet
This error message is only visible to WordPress admins
Error: No connected account.
Please go to the Instagram Feed settings page to connect an account.