Lebanon aid ship may head to Greece say organizers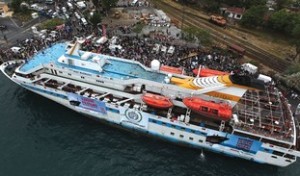 The Lebanese women who are organizing the Gaza bound aid ship told As Safir that Mariam aid ship heading may alter its course by heading Greece first instead of Cyprus after Cyprus refused to allow the ship to dock at its ports.
The organizers revealed that contacts are underway with the Greek government if Cyprus maintained its position.
Lebanese Transportation and Public Works Minister Ghazi Aridi said Friday that Lebanon refuses to bow to Israel's warning against granting clearance to the all-women aid boat which plans to sail to blockaded Gaza this weekend. "We will not respond to the wishes or requests of (Israeli Defense Minister Ehud) Barak, and what he says is of little relevance to us," Aridi told AFP in a phone interview.
The Mariam, a Bolivian-flagged cargo ship originally named Julian Star, originally planned to leave from northern Lebanon port of Tripoli to Cyprus on Sunday at 10:00 pm (1900 GMT) on the first leg of a planned voyage to Gaza, organizer Samar al-Hajj said Thursday.