Hariri to stick to his demands for truth, justice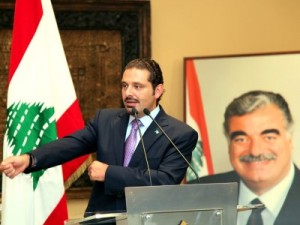 Lebanon Prime Minister Saad Hariri vowed to stick to his demands for truth and justice in former PM Rafik Hariri's assassination but calmly and quietly.
"All issues could be resolved through good word and calmness, which constitute the basis of any dialogue in the country," Hariri told an Iftar banquet in Qoreitem in honor of Beirut families.
"Truth and justice are all that we want … We demand the truth and we don't want it to be politicized but we want truth and justice. We will stick to these two demands calmly and quietly," Hariri said
He said Thursday's national dialogue session at Beiteddine palace was successful and calm prevailed over the talks.
Hariri also said "the Palestinians will return to Palestine, their homeland, in the framework of the right of return." His comment came after Israeli Deputy Foreign Minister Danny Ayalon described the Lebanese parliament's decision to grant work rights to Palestinians as a first step toward their naturalization in Lebanon.
"Our enemies are numerous, but our strength is in our unity. No one in Lebanon can prevail over the other, and this is why we always call for national unity and this house will only call for dialogue and national unity," Hariri told the Iftar.
False witnesses
March 14 MP Ammar Houri told Voice of Lebanon (VOL) on Friday that Prime Minister Saad Hariri is in constant contact with all Lebanese parties, adding that the PM is not in disagreement with any political force.
Houri also said that he does not know the content of the witnesses' testimonies to the Special Tribunal for Lebanon (STL) – which is probing the 2005 assassination of former Prime Minister Rafik Hariri – because the tribunal's investigation is confidential.
However, the cabinet delegated Justice Minister Ibrahim Najjar during its Wednesday meeting to follow up on the issue of witnesses who gave false testimonies to the STL.