Siddiq calls Hezbollah evidence fabrications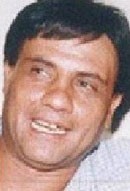 During a phone interview with Kuwaiti al-Seyassah newspaper , Mohammed Zuhair Siddiq who was branded in 2005 as the "King Witness" described Hezbollah leader Sayyed Hassan Nasrallah's information on former PM Rafik Hariri's murder as fabricated and accused Hezbollah and the Syrian intelligence of fabricating false witnesses.
The evidence that allegedly accuses Israel of involvement in Hariri's assassination is "unconvincing," Siddiq told the al-Seyassah newspaper in remarks published Friday.
He described Nasrallah's latest press conference as a "stupid play that Hezbollah itself is not convinced of."
Siddiq accused Nasrallah, former head of General Security Jamil Sayyed and the Syrian intelligence of fabricating false witnesses such as Houssam Houssam.
"If Nasrallah and his aides consider Houssam Houssam one of the false witnesses, then why do they allow him to make comments to Hezbollah's al-Manar TV?" the former member of Syria's intelligence services wondered.
In initial reports of the U.N. investigation commission Siddiq was described as a key witness. He claimed that Lebanon's former President Emile Lahoud and Syrian President Bashar Assad gave the order to kill Hariri.
Siddiq also described Tawhid movement leader as a "rat," saying Lebanese authorities should put an end to his threats.
He told al-Seyassah the indictment that would be issued by the Special Tribunal for Lebanon "would be similar to an earthquake."
Jumblatt
Siddiq told the newspaper that he met with people close to MP Walid Jumblatt in New Zealand. Al-Seyassah did not reveal any details on this matter.
During an interview with al-Akhbar newspaper , the Progressive Socialist Party leader hailed the cabinet's decision to deal with false witnesses and stressed he had no link to the issue.
The decision of the cabinet to task Justice Minister Ibrahim Najjar with studying their case was "wise," Jumblatt told al-Akhbar
"False witnesses have become part of the political bickering," he said.
According to Jumblatt, the international tribunal is politically linked to U.N. Security Council resolution 1559. "Some believe that it (the court) is one of the ways to implement the resolution."
Part of the campaign to implement 1559, which among other things calls for the disarming of all militias, began by hitting at the credibility of Hizbullah and igniting strife in the country, the PSP leader said.