Qassem: Hezbollah-Syria stretegic relations is baptized in blood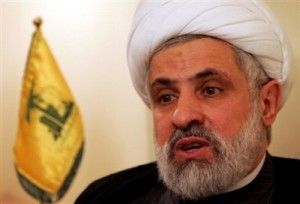 Hezbollah Deputy chief Sheikh Naim Qassem said Wednesday :Those betting on a dispute between Syria and Hezbollah are delusional because the strategic relation between the two sides is baptized in blood and it is still going on better than before.
Qassem stressed that no one could refute the possibility that Israel may have a hand in assassinating Lebanon's former PM Rafik Hariri. He was referring to the Aug 9 speech of Sheikh Hassan Nasrallah in which he accused Israel of being behind Hariri's murder
"The coming days will prove that Israel … can't be ruled out as to murdering ex-PM Hariri," Qassem said, accusing Tel Aviv of several previous "spying, assassination and assault" operations.
Qassem said that his party will persist in accusing its arch-foe Israel of murdering Hariri "and the Arab and Muslim peoples in the entire region will be the ones to observe and judge."
"Those who don't join forces against Israel are Israelis and collaborators, even if they don't fly the flag of Israel," Qassem charged.
Qassem warned that "the second battle after the July 2006 war … would not be a defeat for Israel similar to that of July, but rather much stronger and it would affect the structure of the (Israeli) entity." Naharnet