Bellemare is carefully examining Hezbollah evidence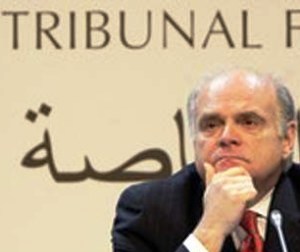 Special Tribunal for Lebanon (STL) Prosecutor Daniel Bellemare is "carefully examining" the Hezbollah data allegedly implicating Israel in the murder of former Lebanese PM Rafik Hariri, according to STL spokeswoman Fatima el-Issawi
Issawi told An Nahar daily in remarks published Thursday that Bellemare would assess the accuracy of the information provided to him by Hezbollah.
Bellemare asked the Lebanese authorities last week to provide the Hezbollah evidence and earlier this week, Hezbollah security coordinator Wafiq Safa gave attorney General Said Mirza the material that was unveiled by Sayyed Hassan Nasrallah on Israel's alleged role in the murder during his press conference on Aug 9
The data was later transferred by Mirza to Bellemare's Beirut office.
Meanwhile, An Nahar revealed that Saudi Arabia has paid its remaining share of the second year funding for the tribunal.
STL elimination
Hezbollah politburo member Mahmoud Qomati stressed Wednesday the party's demand for the elimination of the Special Tribunal for Lebanon.
He said: "The tribunal has been politicized from the start and was initially formed to fulfill interests, and not discover the truth, but bury it."
He said that Hezbollah handed over its information on the Hariri assassination based on a request from the Lebanese judiciary and not the STL or its Prosecutor Daniel Bellemare.
False witnesses
According to local reports the Lebanese cabinet asked yesterday Justice Minister Ibrahim Najjar to follow up with the Lebanese judiciary on the issue of false witnesses of STL and prepare a report on the matter.