Phalange: LAF should have exclusive rights to defend Lebanon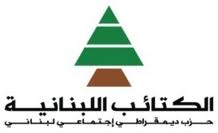 The Phalange Party issued a statement on Monday in which it stated that mixing between the right of the Lebanese Armed Forces' (LAF) to defend the country and that of Hezbollah might send the wrong signals to the international institutions jeopardize Lebanon's credibility .
Granting the LAF an exclusive right to maintain the country's security and stability will enhance its abilities, the statement added.
STL
"The government should reinforce its previous position regarding the Special Tribunal for Lebanon (STL) and the international resolutions," the statement added.
The Phalange Party added that some parties represented in the cabinet, a possible reference to Hezbollah, have issued statements that negatively affected Lebanon's image as a country that respects its commitments.
This comes in a possible reference to Hezbollah Secretary General Sayyed Hassan Nasrallah's statements last month calling the STL an Israeli project aiming to incite sectarian strife in Lebanon.
Palestinian rights
"A political, economy and social study must be conducted before any laws pertaining to the Palestinian situation are adopted," it added.
The issue of Palestinian rights sparked debate after MP Walid Jumblatt submitted a proposal to parliament on June 15 to grant Palestinian refugees in Lebanon civil rights and allow them to own property in Lebanon. The majority of Christian MPs voted against the bill.
The parliament is expected to tackle the matter during its Tuesday session