Chatah: I hope Nasrallah is right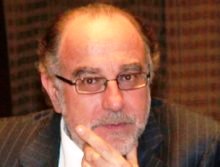 Prime Minister Saad Hariri's adviser Mohammad Chatah voiced hope that Nasrallah is right about Israel's involvement in former Prime Minister Rafik Hariri's 2005 assassination.
He made the statement during an interview with Kuwaiti newspaper Al-Rai to be published Friday .
His comment comes after Hezbollah leader Sayyed Hassan Nasrallah tried Monday night during a televised press conference to present evidence including footage he said came from Israeli Unmanned Aerial Vehicles (UAVs) monitoring Hariri to prove that Israel was behind the assassination of Hariri. He also presented a confession from a suspected Israeli spy .
The Special Tribunal for Lebanon prosecutor asked the Lebanese authorities to submit the Hezbollah evidence
STL was formed by the UN to try the killers of Lebanon's former PM Rafik Hariri.
"The existence of motive and capability makes accusing Israel of assassinating [Rafik Hariri] a possible prospect," Chatah said.
Although Nasrallah's information is of a general character, when the Special Tribunal for Lebanon (STL) issues its indictment it will create an opportunity to shed more light on hypotheses and available evidence, he also said.
"All the Lebanese want to put Israel under the spotlight in a public international trial," Chatah added.
Regarding Nasrallah's lack of trust in the STL, Shatah said that the tribunal is relatively new and "differs from the previous investigation that was conducted secretly for obvious reasons," referring to the International Independent Investigation Committee mandated by the UN to probe the assassination prior to the formation of the tribunal.
He said that a fair assessment of the STL's investigation would be possible only after its materials become public through the indictment and trial process.
Chatah also said that "Hezbollah's ministers agreed to the tribunal in the 2009 Ministerial Statement," adding that even if they did so with reservations, the statement remains "binding on all."
The leaders of Syria, Lebanon and Saudi Arabia all affirmed the necessity of "working within the national government" during their Baabda summit, Chatah added.