Lebanon charges Karam with spying for Israel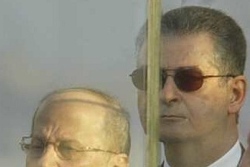 Judge Saqr Saqr, a Lebanese military prosecutor charged on Tuesday Free Patriotic Movement official who was formerly an army general with spying for Israel, the first politician to be charged in a widening espionage case.
Saqr charged Fayez Karam of dealing with "the enemy's intelligence and meeting their officers abroad, and giving them information by phone", according to the charge sheet.
Saqr referred Karam to Military Magistrate Riad Abu Ghida for questioning and the issuance of an arrest warrant against him.
Karam, 62, a retired Lebanese army officer and a senior official of General Michel Aoun's FPM , was arrested earlier this month on suspicion of spying for Israel.
National News Agency said Saqr also pressed similar charges against fugitive Elias Karam and all others shown by the investigation as dealing with the Israeli Mossad secret service, engaging in plots, meeting Israeli officers abroad, following-up on information given by telephone, as well as providing data on the FPM and Hezbollah and other parties and what goes on in meetings and closed-door gatherings held among leaders and cadres of the two parties in addition to receiving cash payments and possession of weapons.
On Monday, State Prosecutor Saeed Mirza obtained the case file of Fayez Karam and referred the file to Saqr after reviewing it.
Karam and Aoun went into exile in France following Aoun's defeat by the Syrian army in 1990 and both returned to Lebanon in May 2005 , 11 days following the withdrawal of the Syrian army from Lebanon.
Based on articles 274-278 of the Lebanese law , those convicted of spying for Israel could face the death sentence.