Is Hezbollah right that Israel killed Hariri?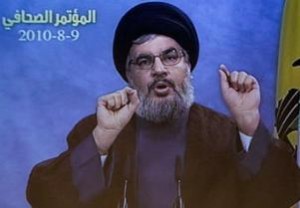 On Monday night, the leader of Hezbollah showed intercepted Israeli reconnaissance footage and confessions of Israeli spies to back his accusation that Israel was responsible for the assassination of former Lebanese prime minister Rafik Hariri – an explosive murder under investigation by an international tribunal.
"Israel has the capability to carry out this type of operation, such as Hariri's assassination and the other assassinations that targeted Lebanon during the past few years," said Sheikh Hassan Nasrallah, adding that Israel's motive was to cast the blame on its enemies, Syria and Hezbollah.
"Israel wouldn't miss a chance to create uproar and use Hariri's blood to drive Syria out of Lebanon and besiege the Resistance," he said referring to Hezbollah.
The dramatic revelations, which included previously unknown details on a key 1997 battle between Hezbollah and Israeli commandos, is seen as part of a preemptive move by Lebanon's militant Shiite group to deflect accusations against its own members in the assassination.
Speculation has been intensifying in recent weeks that the international tribunal investigating Hariri's murder is set to issue indictments against several members of Hezbollah.
Nasrallah's dramatic revelations
Speaking by video link in a highly anticipated press conference, Sheikh Nasrallah gave a detailed account of why he believes Israel is the most likely suspect in Hariri's killing in a truck bomb explosion in 2005.
Video footage was shown of alleged Lebanese spies working for Israel confessing to monitoring the movements of Saad Hariri, the prime minister and son of the slain Rafik, as well as other Western-backed political leaders. One alleged spy was shown admitting he had tried to persuade Rafik Hariri in the 1990s that Hezbollah wanted to assassinate him – evidence provided ostensibly to support Hezbollah's claim that Israel has been trying to stir up trouble between the Hariri family and Hezbollah for years.
The most sensational revelation, however, was Nasrallah's claim that Hezbollah had discovered how to intercept television footage from Israeli reconnaissance drones flying over southern Lebanon in the mid 1990s. He said that drone images intercepted by Hezbollah led the group to stage an ambush in September 1997 in which 11 members of a 16-strong elite Israeli naval commando unit were killed.
More footage from Israeli drones showed routes taken by Rafik Hariri's motorcade in Beirut, including the scene of his subsequent assassination.
"Was that a coincidence?" Nasrallah asked. "Such footage generally comes as the first leg of the execution of an operation."
A credibility problem for the tribunal?
Reactions in Lebanon to Nasrallah's claims inevitably fell along partisan lines with Hezbollah's supporters demanding that the tribunal redirect its investigation toward Israel, while critics adopted a more skeptical line.
An Israeli official told Associated Press that "these accusations are simply ridiculous."
Nasrallah's claims were more analytical than based on hard evidence, but the purpose of the press conference was to cast doubts over the credibility of the tribunal, analysts say.
"I think Nasrallah played it very cleverly," says Bassel Salloukh, professor of politics at the Lebanese American University in Beirut. "The footage alone was enough to sow the seeds of suspicion. It's enough for now to completely delegitimize the work of the tribunal."
The evidence was dismissed as 'insignificant ' by former Lebanese president Amin Gemayel
The tribunal, which is based in The Netherlands, is reportedly preparing a detailed response to Nasrallah's allegations which it will make public in the coming days. CSM