Lebanon FM visited Iran without cabinet approval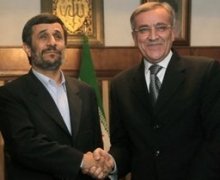 Al-Liwaa newspaper reported Monday that Lebanese Foreign Minister Ali Shami made a brief trip to Tehran without Cabinet's approval.
Al-Liwaa cited ministerial sources as saying that Shami left on a 2-day trip to Tehran upon receiving an invitation from his Iranian counterpart Manouchehr Mottaki "without informing the Cabinet."
Shami reportedly informed Prime Minister Saad Hariri of his Tehran visit by telephone.
Local media said Shami discussed the abolition of visas between the Lebanon and Iran, a suggestion approved by Tehran.
Shami said his Tehran visit was in the framework of thanking Iran for its "continuous support" for Lebanon.
Shami met with Iranian President Mahmoud Ahmadinejad and Iran's Supreme National Security Council Saeed Jalili in addition to Mottaki.
This is not the first time that Shami acts on his own and without the cabinet approval. Back in December 2009 he sent an unauthorized message to the ambassadors of the five permanent members of the UN Security Council calling for the cancellation of UNSCR 1559. The resolution is extremely sensitive issue for the Lebanese because it calls for disarming all the militias including Hezbollah .
Commenting on Shami's disrespect for the cabinet : One analyst told Ya Libnan: "Regardless of his religion and political affiliation, Shami's loyalty should be first and foremost to Lebanon. In a truly democratic country Shami should have been fired , but unfortunately you cannot do this in Lebanon…. Remember what Hezbollah did in 2008 when the cabinet decided to relocate ( not fire) airport officer Brig. Gen. Wafiq Shoucair " he said.
Shoucair was accused of being behind the intelligence that led to the assassination of several Lebanese anti-Syrian leaders including former MP Gebran Tueni and Minister Pierre Gemayel.