Iranian president to visit Lebanon after Ramadan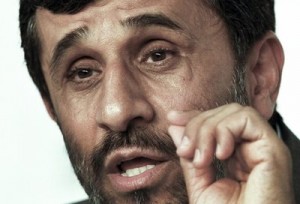 Iranian President Mahmoud Ahmadinejad will visit Lebanon after the Muslim fasting month of Ramadan, a top official said Sunday.
"The president will go to Lebanon at the first occasion after Ramadan," Foreign Minister Manouchehr Mottaki said at a joint news conference with his visiting Lebanese counterpart Ali al-Shami.
The holy month, during which the Muslim faithful abstain from eating, drinking, smoking and having sex during daylight hours, is expected to begin on Thursday in Iran, depending on the sighting of the new moon.
Mottaki's statement confirmed what Hassan Nasrallah , the leader of the Iranian backed Hezbollah group said last week during his televised speech. He said that Ahmadinejad will visit Lebanon after mid September .
The last visit by an Iranian president to Lebanon was by reformist Mohammad Khatami in May 2003, while Lebanese President Michel Sleiman had visited Tehran in November 2008.
Mottaki and Shami lashed out at Israel as they condemned the Jewish state for the recent clashes along the Israel-Lebanon border and the May 31 raid by its commandos on an aid flotilla heading to the blockaded territory of Gaza.
"The survival of the Zionist regime is facing serious problem," Mottaki said in comments translated by the English language Press TV channel.
Shami, who acknowledged Iran's support over the Arab-Israel issue, added that "Israeli aggression is due to its hostile nature."
The May 31 Israeli raid on the aid flotilla left nine pro-Palestinian activists dead and sparked an international outcry against the Jewish nation.