March 14 Official: Hezbollah wants STL toppled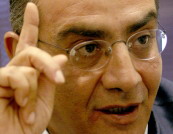 March 14 secretariat-general coordinator Fares Soaid said Saturday that Hezbollah chief Sayyed Hassan Nasrallah has given Saudi King Abdullah and Premier Saad Hariri the option of civil peace or justice.
Soaid was referring to the possibility of indictment of Hezbollah by the Special Tribunal for Lebanon in the assassination of former Premier Rafik Hariri.
Soaid told Voice of Lebanon radio that Nasrallah is asking Saudi King Abdullah and Premier Saad Hariri to engage in a battle to topple the Special Tribunal for Lebanon.
He said Nasrallah believes that if Abdullah and Hariri failed to neglect the rulings of the court, they would be responsible for a Sunni-Shiite strife in Lebanon.
Nasrallah said in last Tuesday speech
"In the past weeks, we made a lot of efforts. We formed a team to review all the details. I will present evidence during the August 9 press conference proving that Israel was plotting to accuse Hezbollah of killing Rafik Hariri."
Nasrallah added: "I have information. We accuse Israel of killing Rafik Hariri on February 14, 2005."
Soaid said : Even if Israel had a hand in Hariri's murder, no one should accuse any side of involvement in the killing before the international tribunal issues its rulings.