UNIFIL: Israel, Lebanon agreed to respect UN resolutions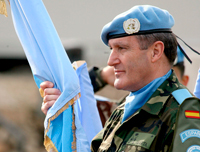 UNIFIL's commander said Wednesday night following a meeting with senior representatives of the IDF and the Lebanese army at the Nakoura crossing: "Israel and Lebanon have agreed to respect the UN's resolutions."
The meeting was held a day after the deadly clash between Lebanese and Israeli soldiers along the so-called 'Blue Line' separating Lebanon and Israel.
In a statement issued after the meeting, Maj. Gen. Alberto Asarta Cuevas said he called for restraint from all sides and avoidance of "any action that could serve to heighten tensions."
He said UNIFIL was still investigating the clash, but preliminary findings were presented at the meeting. On completion of the ongoing investigation, UNIFIL will share its findings with both sides, he said
"Both parties renewed their commitment to the cessation of hostilities … and undertook to work with UNIFIL to ensure that incidents of violence are avoided in the future," the statement read.
Lebanese Armed Forces (LAF) commander General Jean Kahwaji said on Wednesday that Israel Defense Forces (IDF) troops entered on Tuesday a disputed area along the Blue Line, despite objections from the Lebanese army and UNIFIL, National News Agency (NNA) reported.
But "UNIFIL established that the trees being cut by the Israeli army are located south of the Blue Line on the Israeli side," said UNIFIL military spokesman Lieutenant-Colonel Naresh Bhatt, referring to a border line drawn by the United Nations after Israeli troops withdrew from southern Lebanon in 2000.