Berri, Nasrallah discussed Lebanon summit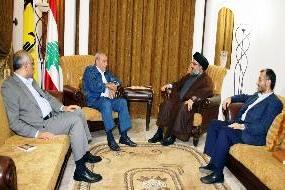 Hezbollah Secretay General Sayyed Hassan Nasrallah met Sunday evening with Speaker Nabih Berri to discuss last Friday's Baabda summit and its expected results according to a statement issued by Hezbollah on Monday.
The meeting was attended by Berri's assistant Hajj Ali Hassan Khalil and Nasrallah's assistant Hajj Hussein Khalil .
This meeting comes after Saudi King Abdullah bin Abdel Aziz and Syrian President Bashar al-Assad visited Beirut on Friday with the aim to calm the political tension . The two Arab leaders participated in a summit in Baabda with President Michel Suleiman.
They reportedly lauded the "historic" visit of Qatari Emir Sheikh Hamad bin Khalifa al-Thani to southern Lebanon over the weekend "as an honest expression of support for the Lebanese army, people and the resistance." They also praised Qatar's support in rebuilding what was destroyed by Israel during the July 2006 War.
They condemned Israeli threats against Lebanon which they said target the unity of the people and the state. They also slammed daily Israeli violations of Lebanese airspace in contravention of Security Council resolution 1701.
About Israeli spy networks, Nasrallah and Berri lauded Lebanese security agencies for the arrest of several spies and called for maximum punishment against the Mossad agents.
The two sides finally stressed the strategic ties between Hezbollah and Amal in facing local and foreign problems.