Assad warns: Chances of war increasing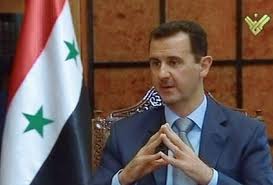 Bashar al Assad, the Syrian president, has warned that "the possibility of war is increasing" in the region.
"The specter of real peace in the region is disappearing, and the possibility of war is increasing," al Assad said in a statement marking Syrian Army Day on Sunday.
Israel and the Lebanese group Hezbollah have traded increasingly hostile rhetoric in recent weeks, raising fears that the two are headed for another round of war.
The two fought a month-long war in the summer of 2006 that left thousands dead, many of them Lebanese civilians.
Damascus has long provided logistical and military support to Hezbollah, but analysts are divided about whether Syria would become directly involved in a second war.
Al Assad also said that Syria would insist on the return of the Golan Heights as part of any peace deal with Israel, which occupied the heights in 1967.
Syrian officials have long called their return an essential precondition for peace talks.
"If anyone thinks that Syria might negotiate over its occupied land, then they are mistaken," al Assad said. "The liberation of the Golan is a deeply ingrained right. Peace requires restoring all the occupied soil."
'Uniquely dangerous'
The International Crisis Group (ICG) warned in a new report published on Monday that the situation in southern Lebanon is both "exceptionally quiet and uniquely dangerous".
The group warned that a second war would be more destructive for Lebanon, and that there is a growing chance it would involve Syria.
"The build-up in military forces and threats of an all-out war that would spare neither civilians nor civilian infrastructure, together with the worrisome prospect of its regionalisation, are effectively deterring all sides," the group wrote.
Many analysts believe Hezbollah fears that another confrontation would hurt its position in Lebanese society.
The group holds two seats in the Lebanese cabinet, and is increasingly positioning itself as a political force.
"A war resulting in widespread destruction would be hard to explain let alone justify to the Lebanese population as a whole, particularly if its most tangible outcome were Hezbollah's mere survival," the ICG report said.
The report also warned that an "underground war" between Israel and Hezbollah is already raising tensions in the region. The Lebanese government last month filed a complaint at the United Nations about an alleged Israeli spying ring in Lebanon. Aljazeera