Iranian envoy: No date set yet for Ahmadinejad's visit to Lebanon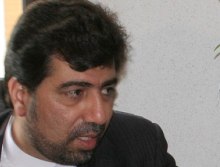 Iranian Ambassador to Lebanon Ghadanfar Rukn Abadi  said on  Monday after holding talks with House Speaker Nabih Berri that no date has been set yet for the visit of Iranian President Mahmoud Ahmadinejad's  to Lebanon.
Commenting on the situation  in the country   Abadi  stressed the need for vigilance, wisdom, and unity to overcome the current tension  in Lebanon.
He said  that Lebanon needs to be wary of Israel's plans to create unrest in the Middle East, especially in Lebanon.
His comment comes following reports of Hezbollah leader's insistence that Prime Minister Saad Hariri should declare Hezbollah innocent in the murder of Lebanon's former Prime Minister Rafik Hariri, before the indictments are issued by the Special Tribunal for Lebanon ( STL) .
STL which is an independent court was formed by the United Nations security council to try the killers of the former Lebanese PM. Hariri was assassinated on February 14, 2005 in downtown Beirut.
No one really knows what the contents of the STL indictments will be like , but Hezbollah Secretary General Sayyed Hassan Nasrallah admitted in his speech on Thursday July 22 that some of his party members would be named in the tribunal's formal charges but stressed that he will reject the indictments.
Nasrallah's speech followed a July 20 report in the pro-Syrian newspaper, Al Safir which revealed that Hezbollah members will be indicted by STL in the assassination of Hariri.
Nasrallah's recent speeches created tension not seen since May 2008 when the Iranian backed Hezbollah militants occupied western Beirut and tried (but failed ) to occupy Mt Lebanon .
The recent tension prompted the visit by the Saudi and Syrian leaders last Friday to try and calm the situation in Lebanon. Qatari Emir Sheikh Hamad bin Khalifa al-Thani also arrived last Friday on a 3 day official visit with the aim of reducing tension in Lebanon.