Qatar Emir meets Geagea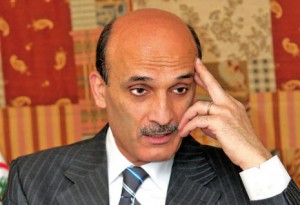 Lebanese Forces leader Samir Geagea met with the visiting Qatari Emir Sheikh Hamad bin Khalifa al-Thani at the Phoenicia Intercontinental Hotel in Beirut on Sunday to address the latest developments in Lebanon and the region , according to a statement issued by the LF.
The statement said discussions lasted for 1 hour and were also attended by MP Strida Geagea, LF official Joseph Nehmeh and Qatari Deputy Premier Abdullah al-Attiyah.
The conferees discussed the Palestinian cause and peace efforts, said the statement. "They also talked about the situation in Lebanon following the tripartite summit that was held at Baabda palace."
Geagea has been one of the most outspoken leaders in support of the special Tribunal for Lebanon (STL) and has been critical of the attacks against the court that were recently launched by Hezbollah and its allies.
STL was formed by the United Nations security council to try the killers of the former Lebanese PM.
No one really knows what the contents of the STL indictments will be like , but Hezbollah Secretary General Sayyed Hassan Nasrallah admitted in his speech on Thursday July 22 that some of his party members would be named in the tribunal's formal charges but stressed that he will reject the indictments.
Nasrallah's speech followed a July 20 report in the pro-Syrian newspaper, Al Safir which revealed that Hezbollah members will be indicted by STL in the assassination of Hariri.
Nasrallah's speeches created tension not seen since May 2008 when Hezbollah occupied western Beirut and tried (but failed ) to occupy Mt Lebanon .
The recent tension prompted the visit by the Saudi and Syrian leaders last Friday to try and calm the situation in Lebanon. The Qatari Emir also arrived last Friday on a 3 day visit to meet key officials in an effort to reduce the tension in Lebanon