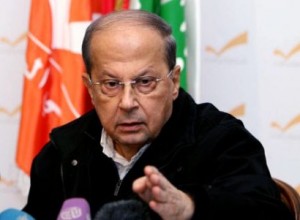 During a tour in Kesrouan district on Sunday, Free Patriotic Movement leader MP Michel Aoun renewed his attack against the Special Tribunal for Lebanon (STL) , saying it cannot issue an indictment before resolving the issue of false testimonies .
STL was formed by the UN to try the killers of Lebanon's former PM Rafik Hariri
His remark is part of a well organized campaign against the STL following a report in the pro-Syrian newspaper, Al Safir which revealed that Hezbollah members will be indicted by STL in the 2005 assassination of former Prime Minister Rafik Hariri.
"Everyone admitted that there were false witnesses who testified about the murder of Rafik Hariri," Aoun said, questioning who manipulated them.
In his speech Thursday July 22 , Hezbollah Secretary General Sayyed Hassan Nasrallah admitted that some of his party members would be named in the tribunal's formal charges but stressed that he will reject the indictments . In an another speech he questioned the STL's credibility, calling it an "Israeli project" designed to create sectarian strife in the country. He also claimed that the indictments were written long time ago and were based on testimonies of false witnesses.
All the false witnesses are reportedly former Syrian Intelligence officers .
Mohammed Zuhair Siddiq also known as Mohamad Zouhair Siddik is a self proclaimed former Syrian intelligence operative who used to live in Lebanon.
Husam Taher Husam another self proclaimed former Syrian intelligence operative
Both witnesses provided information that led the Lebanese authorities to arrest the four Lebanese generals in 2005 .
All the 4 generals were released from jail last year for lack of sufficient evidence
Earlier in July, STL held a public hearing over former General Security head Brigadier General Jamil as-Sayyed's request for documents related to his imprisonment. Sayyed, was one of the four jailed generals . He claimed he is the victim of false witnesses.
In defense of Hezbollah Aoun said:
"We thank every Arab and international effort seeking to uncover the truth behind Hariri's assassination , but we do not welcome efforts to frame the crime on anyone with the intentions of destabilizing Lebanon."
"A crime cannot go without punishment and an innocent can't be accused of a crime. " He said
He added.
"Israel is planning for trouble in Lebanon so that international resolutions are imposed on us at the expense of our sovereignty."
Aoun warned :
"We are on the verge of facing a new plot which I have warned about weeks ago," …. "Israel is plotting problems and planning to hit stability in Lebanon. " He said
Aoun then slammed the US, by saying "it can crush Lebanon with its weapons, but it cannot impose on us its policies."
This error message is only visible to WordPress admins
Error: No connected account.
Please go to the Instagram Feed settings page to connect an account.