Qatar Emir calls for preserving Lebanon's sovereignty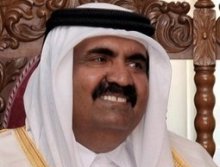 The Emir of Qatar Sheikh Hamad bin Khalifa al- Thani called late Friday for preserving Lebanon's sovereignty and enhancing its stability.
"Lebanon should remain sovereign, free and independent in facing all the circumstances arising from the region's developments," Sheikh Hamad said during a dinner hosted by Lebanese President Michel Suleiman in his honour at the Baabda presidential palace.
Hamad, accompanied by a high-ranking diplomatic delegation, arrived earlier in Beirut for a three-day visit that will also take him to southern Lebanon.
"We understand the sensitive moment today … We hope that Lebanon will not drift to where its enemies want," Hamad said.
"We will not hesitate to make any effort when we are asked, not only out of keenness for Lebanon, but out of keenness for the entire Arab nation, so that it can find an open way to safety and progress," Hamad added.
Suleiman praised the role Qatar has played in enhancing stability in Lebanon since 2008.
"The close relations and strong links between our two countries has had a clear and positive impact on the situation in Lebanon," Suleiman said.
"During the bilateral talks, I felt your brotherly keenness for boosting internal stability in Lebanon which was consecrated by the 2008 Doha Agreement," Suleiman said.
The agreement was reached in Qatar by rival Lebanese factions, ending 18 months of political deadlock and giving the country a stable cabinet for the first time in years.
Hamad's arrival to Lebanon came one hour after Syrian President Bashar al-Assad and Saudi King Abdullah ended talks with Lebanese politicians during which they urged parties to avoid resorting to violence in the face of mounting political tensions in the country.
Abdullah and Assad's four-hour visit was aimed at easing tension in Lebanon sparked by reports indicating that the Special Tribunal for Lebanon will indict some members of Hezbollah in the 2005 assassination of former prime minister Rafik Hariri.
Hezbollah, the powerful Shiite movement, has said it would reject any attempt to indict its members in Hariri's assassination.
A joint statement released by the Lebanese presidential Palace said "the (Saudi-Syrian) leaders stressed the importance of stability … the commitment of the Lebanese not to resort to violence and the need to place the country's interests above all interests."
Lebanese parties should "pursue the path of dialogue and boost national unity to confront outside threats," the statement said in reference to Israel.
Assad described the talks "as excellent." It was Assad's first visit to Beirut since the 2005 assassination of Hariri. Abdullah is also the first Saudi monarch to touch down in Lebanon since 1957.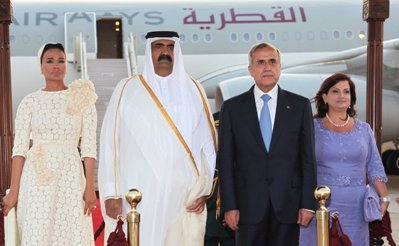 DPA