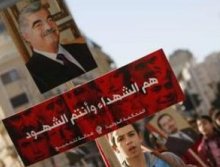 According to Israeli newspaper Jerusalem Post , The UN Special Tribunal for Lebanon is reportedly set to announce that Mustafa Badr al-Din, a senior Hezbollah operative and close relative of the former Hezbollah commander Imad Mughniyeh, is the main suspect in the 2005 assassination of former Lebanese prime minister Rafik Hariri.
Al-Din, the cousin and brother- in-law of Mughniyeh, who was killed in a car bomb in Damascus in February 2008, was also reportedly responsible for planning the attempted assassination of the ruler of Kuwait in 1985, among other operations. He was in jail in Kuwait until he escaped in Aughst 1990 following the invasion by Iraq's Saddam Hussein.
Al-Din 's internal code at Hezbollah is Elias
STL was formed by the United Nations security council to try the killers of the former Lebanese PM
A July 20 report in the pro-Syrian newspaper, Al Safir revealed that Hezbollah members will be indicted by STL in the assassination of Hariri.
In his speech on Thursday July 22, Hezbollah Secretary General Sayyed Hassan Nasrallah admitted that some of his party members would be named in the tribunal's formal charges but stressed that he will reject the indictments . In an another speech on Friday July 16 he questioned the STL's credibility, calling it an "Israeli project" designed to create sectarian strife in the country.
Nasrallah's speeches created tension not seen since May 2008 when Hezbollah occupied western Beirut and tried (but failed ) to occupy Mt Lebanon following the cabinet's decision on May 5 to outlaw Hezbollah's private telcom network and the relocation of an airport officer who was closely associated with Hezbollah. The officer Brig. Gen. Wafiq Shoucair was accused of being behind the intelligence that led to the assassination of several Lebanese anti-Syrian leaders including former MP Gebran Tueni and Minister Pierre Gemayel.
According to observers who are familiar with STL and who know STL's chief prosecutor Daniel Bellemare , all the talk about specific names in indictments is strictly speculative , since no leaks have reportedly been coming from the International court. Most of the speculation has been coming from the pro-Syrian and the Israeli media .