Lebanon's historic summit in pictures
The historic summit between the leaders of Lebanon , Syria and Saudi Arabia was concluded four hours after the arrival of the visiting leaders.
Saudi Arabia's king Abdullah Bin Abdul Aziz and Syria's president Bashar al- Assad held a meeting at Baabda presidential palace in the presence of Speaker Nabih Berri , PM Saad Hariri .
Following that meeting the 3 leaders held a closed door meeting before the lucheon that was hosted by president Suleiman at the Baabda.
Speaker Nabih Berri told reporters following the meeting that the atmosphere in Baabda is excellent
Saudi Arabia's king Abdullah Bin Abdul Aziz and Syria's president Bashar al- Assad arrived in Beirut aboard the same plane at about 2 pm Beirut time Friday , for talks with Lebanese officials aimed at defusing the tension in Lebanon.
After a welcoming ceremony at the airport Suleiman, Abdullah and Assad held a brief meeting at the airport before heading to Baabda palace for summit talks.
At Baabda palace they were later joined by Berri and Hariri for talks
This is Abdullah's first visit to Beirut as the Saudi king. He had attended the Arab summit in Beirut in 2002 when he was still the crown prince. He became the first Saudi monarch to visit the country since 1957.
As for Assad, this is his first visit since eight years . His visit comes after the resumption of normal ties between the two countries following five years of tension that erupted after Hariri's assassination in February 2005.
An Nahar newspaper reported that around 250 people have been invited for a luncheon which will be hosted by president Suleiman.
According to An Nahar Phalange leader Amin Gemayel and Lebanese Forces chief Samir Geagea were not invited. It is not clear if Hezbollah leader was invited . Baabda sources told LBC the presidential palace did not send an invitation to former presidents, including Gemayel and Lahoud, to attend the luncheon.
According to An Nahar, Phalange MPs and ministers who have been invited decided to  boycott the luncheon .
Abdullah and Hariri
Following the luncheon King Abdullah headed to the Center House where he was welcomed by Hariri and a number of political, religious, and social figures. A meeting was held between PM Hariri and King Abdullah at the Center House in the presence of former PMs Omar Karami, Najib Mikati, and Fouad Siniora.
Assad and Suleiman
While Abdullah was meeting with Hariri , Suleiman was meeting with Assad at the Baabda palace.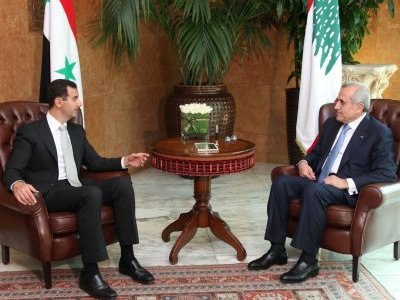 Assad and Berri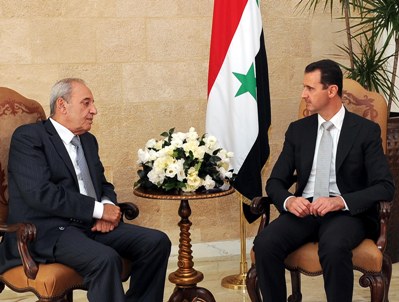 A closed door meeting was also held at the the Baabda palace between Assad and Berri
Mouallem and Hezbollah
Another meeting was held o at the presidential palace between Syrian Foreign Minister Walid al-Muallem and a number of Hezbollah MPs.
End of the summit
The historic summit was concluded at around 6:00pm . King Abdullah and President Assad urged in a statement all the Lebanese to commit to not resort to violence and place Lebanon's interest above any factional ones.
Presidents Suleiman and Assad then headed to Beirut's Rafik Hariri International Airport in preparation of the Syrian president's departure.
PM Saad Hariri accompanied by King Abdullah headed to the airport in preparation for departure of the Saudi monarch
At 6:16 pm the visiting leaders departed from Beirut airport.
The emir of Qatar, Sheikh Hamad bin Khalifa al-Thani is also expected in Beirut Friday evening.
The emir, who is staying until Sunday, is expected to meet separately with Lebanese leaders and scheduled to visit the south of the country to inspect the Qatari-sponsored reconstruction projects that were launched following the July 2006 war between Hezbollah and Israel