Hariri upset over the way Nasrallah addressed him in his speech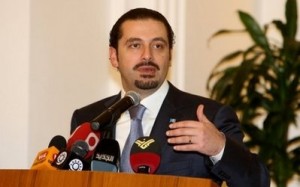 According to media reports , a meeting took place between Lebanese prime minister Saad Hariri and Hezbollah leader's political assistant Hussein Khalil on Tuesday .
The meeting reportedly started with a tense argument after Hariri criticized what he called a campaign by Hezbollah against the Special Tribunal for Lebanon (STL) according to al-Hayat newspaper.
Hariri was reportedly upset and very critical of the way Hezbollah chief Sayyed Hassan Nasrallah's addressed him "through screens."
Hariri reportedly told Khalil that the issue of the court should be discussed in a calm atmosphere away from the media spotlight.
Al Hayat quoted informed sources as saying that Khalil stressed to Hariri that Hezbollah does not accept accusations of involvement in Former PM Rafik Hariri's murder "that's why it cautioned against plots."
According to al-Hayat political sources that despite the bad feeling on the part of Hariri a meeting would most probably be held between him and Nasrallah.
Hariri has reportedly told Khalil that he would reject any indictment that is not backed by evidence and that he refuses to allow his father's soul to become a source of strife in Lebanon.
STL was formed by the United Nations security council to try the killers of the former Lebanese PM
A July 20 report in the pro-Syrian newspaper, Al Safir revealed that Hezbollah members will be indicted by STL in the assassination of Hariri.
In his speech on Thursday July 22, Hezbollah Secretary General Sayyed Hassan Nasrallah admitted that some of his party members would be named in the tribunal's formal charges but stressed that he will reject the indictments . In an another speech on Friday July 16 he questioned the STL's credibility, calling it an "Israeli project" designed to create sectarian strife in the country.
Nasrallah claimed in his July 22 speech that PM Hariri visited him before he traveled to Washington last May and briefed him about the indictments .
"Out of his keenness to ensure national unity, Hariri told me during the meeting that an STL indictment will be issued and will accuse some members of Hezbollah, but the party will not be connected to the 2005 assassination of Lebanon's former PM Rafik Hariri" Nasrallah said
But according to local reports Hariri met Nasrallah on June 8 , 2010 following his trip on May 23 to Washington where he met US president Barack Obama on May 24.
An-Nahar newspaper quoted last Saturday MP Ammar Houry who is very close to the Prime Minister as saying that he did not tell Nasrallah that the Special Tribunal for Lebanon (STL) will indict Hezbollah members in the 2005 assassination of his father.
"Hariri visited Nasrallah after his return from Washington and he did not discuss the STL's indictment during the visit," Houry said.
Houri quoted Hariri as saying, "What happened was that media reports implicating Hezbollah members were published before the PM's meeting with Nasrallah ."
Nasrallah's speeches created tension not seen since May 2008 when Hezbollah occupied western Beirut and tried (but failed ) to occupy Mt Lebanon following the cabinet's decision on May 5 to outlaw Hezbollah's private telcom network and the relocation of an airport officer who was closely associated with Hezbollah. The officer Brig. Gen. Wafiq Shoucair was accused of being behind the intelligence that led to the assassination of several Lebanese anti-Syrian leaders including former MP Gebran Tueni and Minister Pierre Gemayel.