Arrests over alleged Facebook slander of Lebanese president
When it comes to tolerating free speech and outspoken media, Lebanon's track record is often quite better than many other countries in the region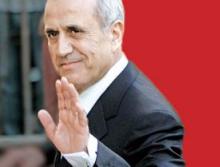 By: Alexandra Sandels
When it comes to tolerating free speech and outspoken media, Lebanon's track record is often quite better than many other countries in the region where reporters are thrown in prison and bloggers are tortured for their dissenting opinions.
However, the recent arrests of four people for allegedly defaming Lebanese President Michel Suleiman in comments on Facebook have sparked controversy and raised concerns among some over whether the country is becoming intolerant of free expression.
Earlier this week, Ahmad Ali Shuman was arrested at Beirut airport by security forces upon returning to the country from Ukraine. A warrant for his arrest had been issued last month on charges of defaming the president on the popular social networking site. Local media reports say Shuman was immediately transferred from the airport to Lebanon's Roumieh prison for further interrogation.
He was the fourth in a group of men suspected of recently insulting the president online. Last month, authorities arrested 27-year-old Naim George Hanna, Antoine Youssef Ramia, 29, and Shebel Rajeh Qasab, 27, and charged them with libel, defamation, and insulting the president, according to a news release issued by the U.S.-based rights group Human Rights Watch.
They were released on bail a few days later pending further investigation.
Nadim Houry, senior researcher at HRW on Lebanon and Syria, told Babylon & Beyond that the arrests were "definitely a step in the wrong direction."
Still, dragging Internet dissidents through the courts for jabbing at public figures on Facebook is not that commonplace in Lebanon. At least not yet.
"It's not an established pattern, but on the other hand there have been a number of worrying factors in that direction," said Houry. He gave the example of a Lebanese blogger who was questioned by Military Intelligence officials earlier this year about a number of blog posts he had written that criticized the army and the Lebanese government system.

Hanna had reportedly set up a Facebook group in May called "We don't want a hypocrite at the helm of the presidency" (La noureed khabeeth fee souddat al ri'assa) to criticize the purported meddling of Suleiman in the municipal elections in Lebanon's Jbeil region.
When members from the Internal Security Forces questioned Hanna in late June they showed him printouts of the group's page as well as of his own profile on Facebook, according to HRW.
Around the same time, Ramia and Kassab were arrested for posting comments to Hanna's group while the prosecutor's office put out a "notice of search and investigation" against Shuman.
Some free-speech advocates say the arrests violate free speech. But the Lebanese justice ministry found that the case met the criteria for a slander and defamation lawsuit.
"Media freedom in Lebanon and any civilized country reaches its limits when the content is pure slander and aims at undermining the head of state," the Agence France-Presse news agency quoted a statement from the justice ministry as saying."The inappropriate comments published on websites are subject to prosecution and punishment as they meet the requirements for litigation as stipulated in the media law and penal code," it continued.
Lebanon's general prosecutor is required by law to take action in any case of libel, slander or defamation against the president or any "sister state" of Lebanon, regardless of whether there is a plaintiff or not, added the news agency.
Houry, meanwhile, stressed the need to modernize the Lebanese penal code, saying the current libel and defamation laws are not well defined and are hard to apply. Such broad legal provisions can be used to crush criticisms of the government or public figures by those lacking the necessary backup, he said.
"They end up being applied to people that don't have the means to defend themselves. Those not backed by any political party and criticizing a political leader — they pay a heavier price," he said. LAT