Arab League endorses direct Palestinian-Israeli talks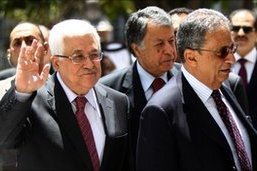 The Arab League has endorsed direct Palestinian peace talks with the Israelis, but has left the timing to the Palestinians, officials said.
The US has been pushing Palestinian President Mahmoud Abbas to restart the direct talks, suspended since 2008.
Mr Abbas has been demanding guarantees on borders and a freeze on all Israeli settlement activity.
He wants progress in the indirect talks mediated by US envoy George Mitchell before resuming face-to-face talks.
Israeli Prime Minister Benjamin Netanyahu has said he is ready to discuss all the core issues of the decades-old conflict, and has accused the Palestinians of avoiding direct talks.
Thorny issues
The Arab League agreed in principle to direct talks with Israel provided the Palestinians saw fit, said Qatar's Foreign Minister Sheikh Hamad bin Jassem al-Thani, who chaired a meeting of Arab foreign ministers in Cairo.
"Of course, there is agreement, but agreement over the principles of what will be discussed and the manner of the direct negotiations," he said.
But the timing of the direct talks was "a matter for the Palestinian side to decide", he said.
The Palestinians are under intense pressure to re-start direct talks from Washington, which says that having no talks will just make things worse, says the BBC's Jon Leyne in Cairo.
US President Barack Obama has staked a lot of his reputation on making progress towards peace between Israel and the Palestinians, our correspondent says.
But the Palestinian leader said he would only do so if Israel agreed to a complete halt in settlement construction and accepts a Palestinian state in territories seized in the 1967 Middle East war – the West Bank, Gaza and East Jerusalem.
"When I receive written assurances [about] accepting the 1967 border and halting the settlement [building], I will go immediately to the direct talks," Mr Abbas was quoted as saying by Egypt's state-owned news agency before the meeting.
Mr Netanyahu has accepted the idea of Palestinian statehood with conditions, but has ruled out giving up control of East Jerusalem, which the Palestinians want as the capital of a future state.
Israel also acceded to US pressure to temporarily limit settlement building in the West Bank, but its 10-month moratorium expires in September.
Mr Abbas suspended negotiations after Israel carried out an offensive on the Hamas-ruled Gaza Strip in December 2008 in response to rocket fire.
BBC