Hezbollah official calls accusations a form of agression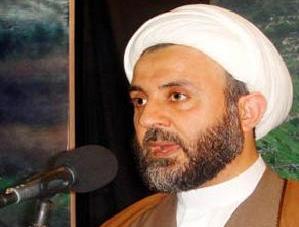 Hezbollah top official in southern Lebanon Sheikh Nabil Qaouq stressed Tuesday that any accusation against members or leaders of the party is a form of aggression "which is more dangerous than the decision of May 5, 2008."
He is referring to May 2008 when Hezbollah occupied western Beirut and tried (but failed ) to occupy Mt Lebanon following the cabinet's decision on May 5 to outlaw Hezbollah's private telcom network and the relocation of an airport officer who was closely associated with Hezbollah. The officer Brig. Gen. Wafiq Shoucair was accused of being behind the intelligence that led to the assassination of several Lebanese anti-Syrian leaders including former MP Gebran Tueni and Minister Pierre Gemayel.
He accused the special Tribunal for Lebanon ( STL) of using false witnesses to indict Hezbollah.
"The Resistance is committed to defending its accomplishments and the dignity of its fighters until the end he said and added : There is one necessary and binding way to reach the truth and that is through trying false witnesses and those behind them, who are already known."
Qaouq added: "Those who have bargained on false witnesses to create a rift between the Resistance and Syria have been disappointed because the ties between the Resistance and Syria are too strong to be affected by political maneuvers or an international tribunal," Qaouq stated.
Syria was initially accused of being behind Hariri's murder , but a report in May 2009 in the German magazine Der Spiegel revealed that Hezbollah was behind the assassination of the the former Lebanese PM who was assassinated o February 14, 2005.
Many observers in Lebanon believe that Hezbollah could not have done it without Syria's help, because Syria's intelligence was in total control of the country at the time of the assassination. Many also believe that any future peace deal between Israel and Syria could create a rift between the Iranian backed Hezbollah and Syria.
Qaouq added: "We will continue confronting this conspiracy … and we will consider any indictment against the Resistance an Israeli-American fabrication executed through local or international means," he said without elaborating .
STL was formed by the United Nations security council to try the killers of the former Lebanese PM
His comments are part of a well organized campaign by Hezbollah and its allies against the STL following a July 20 report in the pro-Syrian newspaper, Al Safir which revealed that Hezbollah members will be indicted by STL in the assassination of Hariri.
In his speech on Thursday July 22, Hezbollah Secretary General Sayyed Hassan Nasrallah admitted that some of his party members would be named in the tribunal's formal charges but stressed that he will reject the indictments . In an another speech on Friday July 16 he questioned the STL's credibility, calling it an "Israeli project" designed to create sectarian strife in the country.
Lebanese Forces leader Samir Geagea said Monday July 26 following a meeting with Prime Minister Saad Hariri at the Grand Serail that those "warning about a strife are the ones preparing for it." He stressed the need to maintain the civil peace.