Hariri-Assad-Nasrallah meeting is under review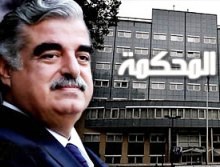 According to al-Hayat newspaper sources officials are studying the possibility of holding a meeting between Premier Saad Hariri, Syrian President Bashar Assad and Hezbollah chief Sayyed Hassan Nasrallah.
In an article published on Wednesday al-Hayat reported that the meeting is one of the suggestions made to resolve the differences among Lebanese politicians over the findings of the Special Tribunal for Lebanon .
Others sources said that bilateral talks between Hariri and Nasrallah could be held without the presence of any Arab leader , specially since the PM has been calling for calm and dialogue in his latest statement.
Several parties advised Nasrallah to intensify contacts with Hariri because dialogue is the only way to avoid strife in the country, the sources added.
STL was formed by the United Nations security council to try the killers of the former Lebanese PM
A July 20 report in the pro-Syrian newspaper, Al Safir revealed that Hezbollah members will be indicted by STL in the assassination of Hariri.
In his speech on Thursday July 22, Hezbollah Secretary General Sayyed Hassan Nasrallah admitted that some of his party members would be named in the tribunal's formal charges but stressed that he will reject the indictments . In an another speech on Friday July 16 he questioned the STL's credibility, calling it an "Israeli project" designed to create sectarian strife in the country.
Nasrallah's speeches created tension not seen since May 2008 when Hezbollah occupied western Beirut and tried (but failed ) to occupy Mt Lebanon following the cabinet's decision on May 5 to outlaw Hezbollah's private telcom network and the relocation of an airport officer who was closely associated with Hezbollah. The officer Brig. Gen. Wafiq Shoucair was accused of being behind the intelligence that led to the assassination of several Lebanese anti-Syrian leaders including former MP Gebran Tueni and Minister Pierre Gemayel.