152 killed in Pakistan's worst ever air crash
The morning Airblue flight from Karachi was preparing to land when it went down in the fog-shrouded Margalla Hills to the north of Islamabad.
Rescue workers struggled to reach the crash site, trekking through forests made boggy by days of monsoon rain.
Officials said air traffic control had diverted the plane on its final approach, owing to rain and thick cloud – outside the normal route for aircraft flying from Karachi.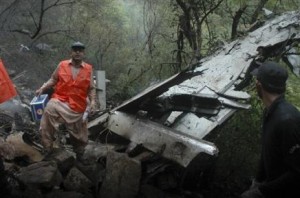 Rehman Malik, the country's Interior Minister, said: "It's a tragic, tragic accident. There will be a full investigation and it's too early to say what caused the crash but the weather was not good."
A plume of smoke rising into the low cloud from the forested hills could be seen from the Pakistani capital. Some onlookers scrambled past police cordons to climb into the hills where they helped rescuers digging among the wreckage with their bare hands.
Pakistan is in the grip of monsoon season and Wednesday brought heavy rain and low cloud to the Himalayan foothills around Islamabad.
Experienced pilots say the craggy hills and unpredictable wind patterns make landing awkward even in good weather. An earlier flight operated by Pakistan International Airlines had been diverted to Lahore on Wednesday.
Witnesses said the ill-fated Airbus A321 looked to be in difficulty as it approached the city.
"I wondered why the plane wasn't flying higher as it was flying towards the hill," said Anjum Rahman, who saw the plane from the window of her home. "Then within three or four minutes I heard a loud explosion."
Relatives of the missing gathered at Islamabad airport and the city's main hospitals desperate for word of their loved ones as rumours of survivors circulated.
Crowds clustered around ambulances as they began arriving at Pakistan Institute of Medical Sciences in the early afternoon.
Hope gradually faded as it became clear they were carrying badly charred bodies rather than survivors.
Huma Shahid said she was waiting for news of a cousin who was returning from Karachi where he had been on business.
"We came because we heard there were survivors – first five, then 45," she said. "But so far nothing. People are getting angry," she said.
It was not until late afternoon that rescue workers said they had accounted for all the passengers and no one had survived.
Airblue was set up in 2004, flying to the UK and Middle East as well as operating domestic services. Its modern fleet has a good safety record and its reputation for service has attracted many business travellers away from state-owned PIA.
The deadliest civilian plane crash involving a Pakistani jet outside the country was a PIA Airbus A300 that crashed into a cloud-covered hillside on its approach to the Nepalese capital Kathmandu, killing 167 people in September 1992. telegraph