Lebanese army to deploy more troops in the south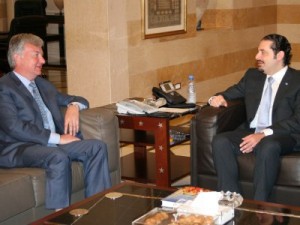 France's ambassador to Beirut said following a meeting with Prime Minister Saad Hariri todayon Monday that the Lebanese army is planning to deploy additional troops in south Lebanon.
"I met with Prime Minister Saad Hariri today … who informed me that additional Lebanese troops …one brigade (approximately 1,500 soldiers) …would be deployed in the south beginning today," ambassador Denis Pietton told reporters.
"This is a positive step which in my opinion will be appreciated by all partners of Lebanon participating in UNIFIL," he said, referring to the UN peacekeeping force in southern Lebanon overseeing the Lebanese-Israeli border.
"It is deemed important to increase army units' number in the South according to Resolution 1701," Pieton added
A Lebanese army spokesman refused to confirm the news.
Pietton, whose country has 1,500 UNIFIL troops in Lebanon, the second largest contingent after Italy, made the statement following a string of protests against UNFIL peacemakers
In the most serious incident, angry villagers disarmed a French UNIFIL patrol in the village of Tuline, attacking them with sticks, rocks and eggs before the army intervened.
Israeli warning
Pietton's statement also comes shortly after warnings by Israel that it is ready to target Lebanese institutions if Lebanon's Shiite militant group Hezbollah launches rocket attacks on the Jewish state.
"We will not run after each Hezbollah terrorist or launcher" if Hezbollah fires a rocket into Tel Aviv, Israeli Defense Minister Ehud Barak told The Washington Post in an interview published on Monday.
"We will see it as legitimate to hit any target that belongs to the Lebanese state, not just to Hezbollah," he added.
Hezbollah and Israel fought a devastating war in 2006 that left much of Lebanon's major infrastructure in ruins. The month-long war killed more than 1,200 Lebanese, mainly civilians, and 160 Israelis, mainly soldiers.