Lebanon defeats Japan 92-87 in overtime
Japan fell to Lebanon 92-87 in overtime Saturday in the opener of their men's three-game basketball exhibition series.
Hiroyuki Kinoshita made a coast-to-coast layup at the buzzer for Japan to force overtime at 77-all, but the Lebanese dominated a five-minute overtime period at Sky Hall Toyota in Aichi Prefecture.
Lebanon is ranked 24th in the world and has qualified for the FIBA World Championship in Turkey later this summer, but 32nd-ranked Japan will not take part.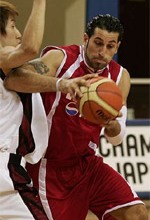 "It was a good game for us to experience — getting into overtime," said Thomas Wisman, the new head coach of the Japanese team.
"We didn't handle overtime well, but in the last part of the fourth quarter, we made plays. We got the game into overtime. To come from behind was pleasing. We just couldn't maintain the rebounding focus for 45 minutes. They outrebounded us badly in the second half of overtime."
Jackson Vroman scored a game-high 28 points and Ghaleb Reda followed with 22 points. Takuya Kawamura had 21 points for Japan.
Point guard Yuta Tabuse, the only Japanese-born player who has ever played in an NBA game, missed the opener with a high fever.
The series moves to Sumida Ward Gymnasium in Tokyo for Game 2 on Sunday.Japan Times