Arslan escalates attack against STL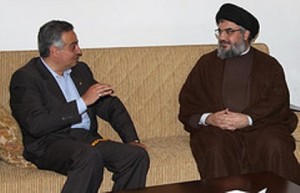 Democratic Party leader MP Talal Arslan , a staunch ally of Syria and Hezbollah escalated his attacks Saturday during a press conference against the Special Tribunal for Lebanon by claiming that Israel is involved in every aspect of the indictments.
He pointed out that there are differences in the English and French versions of the texts detailing the duties of the tribunal and said such a discrepancy hides "hidden evil intentions" that will thwart justice because the tribunal will be employed to achieve regional and international interests.
He claimed that Israel is being used as a main source of information in the investigation "which is a horrible development."
In addition, the MP condemned the tribunal for not prosecuting false witnesses, saying: "This joke affirms the court's political quality, and eliminates its legal aspects."
"A national stand is necessary in order to confront the plan to create strife in Lebanon, where the Lebanese should demand a rephrasing of the tribunal's work starting with carrying out investigations with Israelis," Arslan stressed.
According to observers Hezbollah has been using politicians like Arslan and Wiam Wahab to attack the STL with the aim of ending its role in prosecuting the killers of Hariri. Hezbollah leader Sayyed Hassan Nasrallah met Arslan last Thursday (picture) and met today with Wahab for 3 hours .
During a speech last Thursday admitted that some members of Hezbollah will be indicted by STL , but warned that will reject the indictments