Ahmadinejad calls Russian president: Mouthpiece of Iran's enemies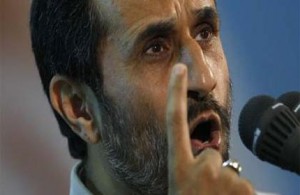 Mahmoud Ahmadinejad, the Iranian president, has denounced Dimitry Medvedev, his Russian counterpart, as a "mouthpiece" of Iran's enemies, highlighting rising tensions between the two countries.
Ahmadinejad made the comments after Russia joined the US and the EU in accusing Iran of having a hidden agenda for its controversial nuclear program.
Russia had already upset its past ally when it backed US-led calls for more sanctions against Iran.
"In a meeting with his ambassadors, [Medvedev] said we have knowledge that Iran is moving towards the bomb," Ahmadinejad said in pre-recorded footage broadcast by state television on Saturday.
"We regret that Medvedev has become the mouthpiece for the plans of Iran's enemies."
Russia's attitude towards Iran has appeared to dramatically shift after Medvedev visited the US late last June.
Deteriorating relationships
On July 12, Medvedev made his toughest remarks to date about the Iranian nuclear program , which Tehran has always insisted is entirely peaceful in aim.
"Iran is nearing the possession of the potential which, in principle, could be used for the creation of a nuclear weapon," he told Russian diplomats.
Three days later, Medvedev warned Iranian leaders that they did not "live in space" and accused them of exploiting the nuclear standoff with the international community for political ends.
"Iran is an active trade partner of ours. But this does not mean that we are indifferent to how Iran is developing its nuclear program ," Medvedev said at a news conference alongside German Chancellor Angela Merkel.
Ties between Tehran and Moscow deteriorated sharply when Russia backed a fourth set of UN sanctions over Iran's nuclear program  adopted by the Security Council on June 9.
"Russia is a great nation and we are friends and are interested in expanding our friendly relationship, but you should know that the remarks [of Medvedev] are a trailer for the propagandist scenario that the US will stage," Ahmadinejad said.
"This scenario has been kick-started by the Russian president."
New nuclear chapter
On Saturday, Iran revived a long-suspended nuclear fusion program started during the time of Reza Pahlavi, the late Iranian Shah toppled by the Islamic Revolution in 1979.
Ali Akbar Salehi, the Iranian atomic chief, announced on Saturday that an eight million dollar fund had been set up to conduct "serious" research in the area of nuclear fusion.
He said 50 people have been hired for the work, which Iran began nearly three decades ago but was initially "not very serious" about pursuing.
"Fusion research has been launched seriously today," the ISNA news agency quoted Salehi as saying.
"The start-up budget is eight million dollars," he said.
"It takes 20 to 30 years before this process can be commercialized but we have to use all the capacity in the country to provide the necessary speed for fusion research."
Nuclear fusion has long been touted as the cheap, safe, clean and almost limitless energy source of the future but efforts to harness it for power generation have so far failed to bear fruit.
Fusion is used in hydrogen bombs, where fissile material like that used in a simple nuclear warhead launches the process by which atomic nuclei fuse together to release energy.
Iran has always rejected Western suspicions that its nuclear program is aimed at developing weapons, insists its work is for scientific research.Aljazeera