Report: Israel will return 3 Turkish Gaza flotilla ships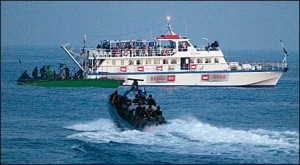 Israel will return three Turkish ships that were part of an aid flotilla for Gaza and attacked by Israeli troops in May, Israeli public radio has reported.
Turkey had already been informed of the decision by the inner cabinet in Jerusalem, the report said.
Nine Turkish activists died when Israeli marines attacked the flotilla on 31 May.
The attack led to an international outcry and a row between former allies Turkey and Israel.
Talks to return the cruise ship Mavi Marana and two other vessels were held up by Israel's demand that the ships' owners should sign guarantees that they would not mount new aid missions to Gaza.
However, the inner cabinet decided to return the vessels without further conditions, an Israeli official is reported to have said.
Turkey withdrew its ambassador and suspended joint military exercises after the raid.
Turkey has also demanded an apology, which Israel has refused to issue.