Israeli army to rehearse war with Lebanon, says Report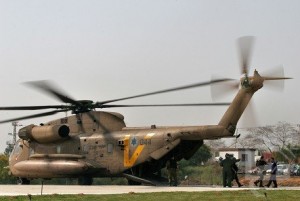 The Israeli army said it would stage a drill as part of intensive preparations for a potential war with Hezbollah and Syria, Israeli daily The Jerusalem Post reported Thursday.
The army is reportedly preparing for missile attacks on main roads and bases, and anticipates villages in southern Lebanon will be the main battleground, the report said.
The Israeli army released aerial maps and photographs claiming to show that Hezbollah has a network of weapons depots and command centers in southern Lebanon villages.
Hezbollah responded with claims it had a list of military targets inside Israel.
The Jerusalem Post quoted a senior Israeli officer saying the army would use unmanned aerial vehicles and attack helicopters to secure its supply lines in the field. The army would also use combined brigades, used in Israel's war on Gaza, which include infantry, engineering and armored forces, the report added.
Throughout June and July, escalating tensions between the two countries led UN Secretary-General Ban Ki-moon to warn that "a resumption of hostilities" would be "devastating," in a report obtained Friday by AFP
Israel killed more than 1,200 Lebanese mostly civilians in its 2006 war with Lebanon.
Hariri rules out possibility of war
On Thursday Lebanon PM Saad Hariri ruled out an imminent Israeli war on Lebanon during an interview with al-Hayat newspaper "despite Israel's hostile intentions and constant intimidation," stressing that "there's no fear from a sectarian strife provided that Lebanese politicians decide to prevent it."
Last Monday Speaker Nabih Berri , a key ally of Hezbollah made a similar assessment.
Hariri stressed during the interview that "any Israeli threat against any Lebanese party is a threat against the whole of Lebanon, especially that the whole of Lebanon is under threat according to the enemy's statements."
The PM stressed "the need to hunt the Israeli spies until the last spy in Lebanon."
Ma'an News, Ya Libnan