Women's Gaza aid ship being loaded in Tripoli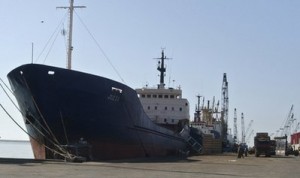 The flotilla aid ship Julia which is planning a blockade-busting trip to Gaza is currently docked at the port in the northern city of Tripoli, Lebanon.
The ship was Christened as "Mariam "by the Lebanese women activists.
According to Lebanon's New TV channel, the ship is getting ready for the trip.
The aid ship will be transporting medical supplies to Gaza . Dozens of women activists will be on board.
"We are all independent women who believe in breaking the siege on Gaza and are committed to the enmity of the Zionist entity," Samar Hajj who is coordinating the trip, told reporters last month.
Women are "the new secret weapon" in use against the "thieving enemy," said Hajj.
Asked by Zohair Bahloul why the ship, Mariam, would only be carrying women, she said, "We are women in order not to give the thieving enemy an excuse to use arms against the ship." She said the ship would be carrying cancer medication for children, and women suffering from breast cancer and cancer of the uterus due to "chemical bombs" dropped on Gaza by Israel.
Lebanon has given permission for the ship to sail to Cyprus, according to transportation minister Ghazi Aridi
Aridi said the voyage of the ship, the French-registered Julia, would not violate Security Council resolution 1701 and that the vessel would undergo a technical checkup before it sails from Tripoli.
While confirming that "Julia's" first destination will be Cyprus and not Gaza, the minister stressed that he won't sign on any illegal sail. He said "Julia" was registered in Paris and would have Lebanese and foreigners on board.
The Lebanese government is responsible of its decision, Aridi added.
There was a lot of confusion about the number of ships that will sail from Lebanon to Gaza, but Aridi stressed that Mariam and Julia are the same ship