Geagea:Aoun will be held responsible for any violence in Christian areas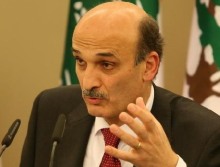 During an interview with MTV on Tuesday , Lebanese Forces leader Samir Geagea warned Free Patriotic Movement leader MP Michel Aoun that he will be " held responsible for any acts of violence that may be waged against any Christian area."
Geagea's comment comes after As-Safir newspaper's report in which it said that Aoun had advised Hezbollah chief Sayyed Hassan Nasrallah "to change the rules of the game."
"Why weren't the rules of the game changed in the 2009 parliamentary elections? This means that Aoun is asking Nasrallah to use force to change the rules of the game," Geagea added.
Geagea told MTV that "during the last five days, the other camp ( Hezbollah and allies) has given the impression that it has taken a decision to overthrow the democratic game in order to reach its objectives."
"The other camp wants to corner PM (Saad) Hariri and force him to renounce the Special Tribunal for Lebanon," Geagea noted.
"If Hezbollah is confident of its innocence, then why it is afraid and so nervous about the indictment of the Special Tribunal for Lebanon," the LF leader wondered.
Geagea noted that he would reject the indictment of the STL if it turned out to be "fabricated", calling on Hezbollah not to "speculate ."
"If the Special Tribunal for Lebanon turned out to be politicized, then we will reject it before Hezbollah does , " he added.
"Sayyed Nasrallah is speaking as if he is the 'Supreme Leader' of Lebanon with the authority and power of the Supreme Leader of Iran that includes the ratification and timing of presidential elections; sacking the government; dropping or softening of judicial verdicts; and the command of all armed forces," Geagea said.
Geagea warned that he has "the impression that the country may again witness political assassinations."
"I'm aware that I'm under the threat of assassination, but I'm not scared and I'm taking the necessary protection measures," Geagea answered to a question.
"Since nine months, the other camp ( March 8) has started to believe that it took over everything and that only a small island called the Lebanese Forces is left. The other camp is trying to isolate the LF and get rid of it."
As to the issue of the major crackdown on Israeli espionage rings, Geagea noted that "all those agents were recruited during the period of 1991-2005," wondering "who was the 'incubative environment' during that period," in a clear reference to the era of Syrian hegemony over Lebanon.
Geagea noted that those who are talking about a change to the cabinet are seeking a governmental vacuum in Lebanon.
Geagea said that the restructuring of the LF had not witnessed "any hindrance", adding that the party needed "some time" to organize its internal affairs.
"When the door of admission to the LF opens, there will be a chance for everyone to join the party, but we can't accept the membership of a former Syrian Social National Party member for example, or of an individual whose manners are not fit for joining the party," Geagea added. Naharnet