Jumblatt, Nasrallah met to discuss STL, Telecom spies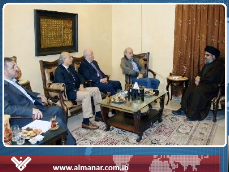 Hezbollah Secretary General Sayyed Hassan Nasrallah met with Progressive Socialist Party leader MP Walid Jumblatt who was accompanied by Ministers Ghazi Aridi and Akram Shehayeb to discuss current developments , according to a statement issued by Hezbollah.
Present at the meeting was Wafiq Safa , Hezbollah's security coordinator with PSP.
Jumblatt stressed during talks Tuesday the importance of coordination between the two parties,the Hezbollah statement said.
Discussions have reportedly focused on Palestinian rights, spy networks and latest developments over the Special Tribunal for Lebanon (STL) and the expected findings of Prosecutor Daniel Bellemare.
Nasrallah last Friday attacked the STL calling it an "Israeli project " aiming to incite sectarian strife in Lebanon.
Nasrallah also claimed that the telecom sector is being used by STL for issuing indictments.
According to As Safir report that was published Tuesday STL may indict in two rounds 23 to 25 Hezbollah members between September and the end of the year.
Lebanon has arrested three suspects over the past month in an expanding probe into an alleged network of Israeli spies employed in the country's telecom sector.
A report in the German Der Spiegel magazine dated May 2009 revealed a link between Hezbollah and the assassination of Lebanon's former PM Rafik Hariri, father of the current prime minister.
STL was formed by the United Nations to try the killers of former PM Hariri , who was assassinated on February 14 , 2005.