Lebanon president urges calm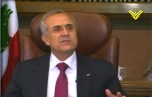 President Michel Suleiman called for calm and away from the media as was agreed upon during the national dialogue sessions, " according to local press reports
His comment comes after Hezbollah Secretary General Sayyed Hassan Nasrallah made a fiery speech in which he called the Special Tribunal for Lebanon (STL) an" Israeli project" that aims at targeting the party and inciting sectarian strife in Lebanon.
Nasrallah' speech outraged March 14 MPs.
Suleiman met on Tuesday with several Lebanese leaders, including Prime Minister Saad Hariri, Free Patriotic Movement leader MP Michel Aoun, Future bloc parliamentary leader , former PM MP Fouad Siniora and Hezbollah parliamentary bloc leader MP Mohammad Raad.
A report in the As Safir newspaper this morning revealed that the Special Tribunal for Lebanon (STL) will be issuing at least two rounds of the indictments starting from next September and around the end of this year. In the first round Bellemare will reportedly indict three to five members of Hezbollah and in the second round about 20 with various ranks including some key officials.
According to observers, As Safir, which is closely associated with Hezbollah may have leaked the above information to Hezbollah and this could have been the reason behind the recent intensified attacks against the STL by Hezbollah and its allies .
According to As Safir , Bellemare said that the Lebanese military leaders told him in an informal way that the Lebanese army will not arrest any members of Hezbollah party if indicted by the court.