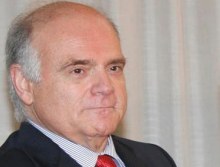 As Safir reported that the Prosecutor of the International Tribunal Canadian judge Daniel Bellemare went to the U.S. in the second week of July. He stopped in New York, then in Washington on July 8 where he met several officials including Assistant Secretary of State for Near Eastern Affairs Jeffrey Feltman .
According to As Safir , the purpose of the visit was to request U.S. aid to finance the work of the International Tribunal in the light of Bellemare's concern that the Lebanese government could not afford to pay their share of funds to cover 49 percent of the expenses of the Court.
As Safir also reported that during his meetings in New York Bellemare pointed out that there will be at least two rounds of the indictments by the Special Tribunal for Lebanon starting from next September and around the end of this year. In the first round Bellemare will indict three to five members of Hezbollah and in the second round about 20 with various ranks including some key officials
According to As Safir Bellemare, will not be indicting any Syrians during this period and expressed concern that this could be misunderstood as exonerating Syria. As Safir said Bellemare had enough evidence to support six or seven charges in the indictments
According to As Safir , Bellemare said that the Lebanese military leaders told him in an informal way that the Lebanese army will not arrest any members of Hezbollah party if indicted by the court.
According to observers, As Safir may have leaked the above information to Hezbollah and this could have been the reason behind the recent intensified attacks against the STL by Hezbollah and its allies .
As Safir is very closely associated with Syria and Hezbollah
The observers believe that if the Lebanese army refuses to arrest the Hezbollah suspects then the STL can request the help of INTERPOL, The International Criminal Police Organization.