Hariri brands al-Akhbar reports 'fabricated, incorrect, baseless'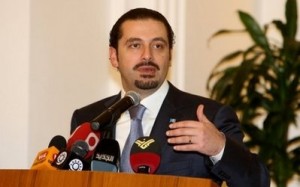 Lebanon PM Saad Hariri's press office described as "fabricated, incorrect and baseless" on Tuesday a report by al-Akhbar which alleged that a telecom spy had close ties to Future movement.
The Al-Akhbar newspaper which is closely associated with Syria and Hezbollah reported that Tareq al-Rabaa , an Alfa telecom employee who was charged with spying for Israel was closely linked to Future Movement and Hariri.
The report also said that the alleged spy was the prime minister's right arm in the telecommunications sector, in addition to his relation with the ISF Information Bureau which gave him special facilities and licenses due to his position within the team.
Fatah fighters
Future movement also denied another report in the same newspaper about links between the party and Fatah members.
Al-Akhbar reported that officials in the movement had asked the Fatah leadership in Lebanon to recruit fighters into the movement.
A statement issued by Future Movement official Ahmad Hariri dismissed the newspaper's report as "totally baseless."
"The Future Movement, which believes that a democratic political dialogue cannot be established under the shadow of the threat to use arms, affirms that the state of law is the guarantee for public life. It rejects using Lebanon as an arena for partisan or external interests," the statement added.