Phalange partly: Leave STL alone and stop politicizing it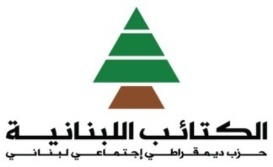 The Phalange Party on Monday called on all parties to keep the "Special Tribunal for Lebanon ( STL) away from the ongoing conflicts in Lebanon and the region, " and urged " an end to politicizing this international authority, which enjoyed national consensus upon its establishment,"
according to a statement issued after the weekly meeting of its politburo.
STL was formed by the United Nations to try the killers of former PM Hariri , who was assassinated on February 14 , 2005.
A report in the German Der Spiegel magazine dated May 2009 revealed a link between Hezbollah and the assassination of Lebanon's former PM Rafik Hariri, father of the current prime minister.
Initially Syria was accused of being behind Hariri's murder , but ever since the Der Spiegel report surfaced, all fingers have been pointing at Hezbollah. Many analysts however believe that Hezbollah could not have done it without Syria's help. The relationship between Hariri and Assad was at its lowest point when the Lebanese PM was assassinated.
According to media reports the tribunal's indictment will be issued before the end of 2010. There are also reports that some Hezbollah members are named in the indictment.
Lebanon Prime Minister Saad Hariri who was in Damascus on a two day official visit was asked on Sunday by a reporter about the Special Tribunal for Lebanon (STL) and his response was : "Let's all deal with the matter calmly, " MTV's correspondent reported.
He made the statement following his meeting with Syrian President Bashar al-Assad .
In a well coordinated move Hezbollah and Syria's allies have been attacking STL during the past several weeks.
Palestinian refugees
The Phalange party reiterated its "proclaimed stance" on improving the living conditions of Palestinian refugees in Lebanon, "especially after this stance has been met with comfort and welcoming by a Lebanese public opinion which is keen on the higher interests of Lebanon."
The party voiced its rejection of "any proposal that may lead to a gradual legitimization of naturalization" of Palestinian refugees in Lebanon, calling for "discussing all the aspects of the issue of Palestinian existence in Lebanon, from an Arab and international scope."
Last month , during an extraordinary session of the parliament PSP leader MP Walid Jumblatt proposed a bill that grants Palestinian refugees in Lebanon civil rights and allows them to own property. The bill was referred by Speaker Nabih Berri to the justice and administrative committee to study and submit recommendation to parliament .
Hezbollah and Amal MPs voted in favor of the bill, while the Phalange party , Lebanese Forces and Change and Reform blocs voted against it.