Lebanon minister: We are ready to demarcate the border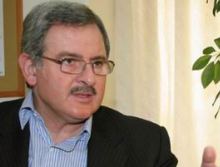 Minister of State Jean Oghassabian said Monday that the Lebanese ministerial delegation that headed to Syria informed the Syrians of Lebanon's readiness to demarcate the border.
Oghassabian told LBC that the Lebanese side had devised a comprehensive plan of border crossings to be discussed with the Syrians "because it is unacceptable that the crossings remain the way they are today."
Hariri said in Damascus that a committee set up by the two countries to demarcate the border "has to begin its work and finish it as soon as possible."
Syrian Foreign Minister Walid al-Moualem said border demarcation must not cause what he termed social suffering by Syrian families living on the Lebanese side of the borders. According to observers this is a new demand by the Syrian government.
Lebanese Minister of Public works Ghazi Aridi told Future TV: Harir's visit to Syria is in the national interest of Lebanon and Syria. We are hopeful that the committees formed will carry out their work and in particular the committee that is charged with border demarcation which hope it will achieve some concrete results
Syria never officially recognized Lebanon as an independent nation, nor had full diplomatic relations with Lebanon, until 2009, when the two nations opened embassies in each other's capitals and exchanged ambassadors. Since Lebanon won its independence from France in 1943, Syria had insisted that Lebanon remained part of greater Syria.