Franjieh: Nasrallah's speech spells the end of Doha accord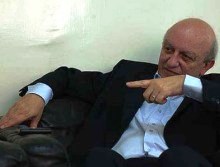 Former Lebanese MP Samir Franjieh slammed Monday Hezbollah Secretary General Hassan Nasrallah's recent speech spells the end of the Doha Agreement.
Franjieh told MTV that Hezbollah's way of dealing with the Special Tribunal for Lebanon is "wrong and being exaggerated," stressing that Prime Minister Saad Hariri would not interfere in any indictment issued by the tribunal.
The only way for the party to get out of its crisis, Franjieh added, is through returning to the state because its agenda will fail in Lebanon.
The Doha accord was an agreement reached by rival Lebanese factions on May 21, 2008 in Doha, Qatar. The agreement marked the end of an 18-month long political crisis in Lebanon.
Following the occupation of Beirut by Hezbollah and its failed attempt to occupy Mt Lebanon, Lebanon was facing a political crises .Qatar's prince Sheikh Hamad bin Khalifa Al Thani invited all Lebanese political parties to its capital Doha to seek an agreement, in order to end the political crisis and avoid an eventual civil war.